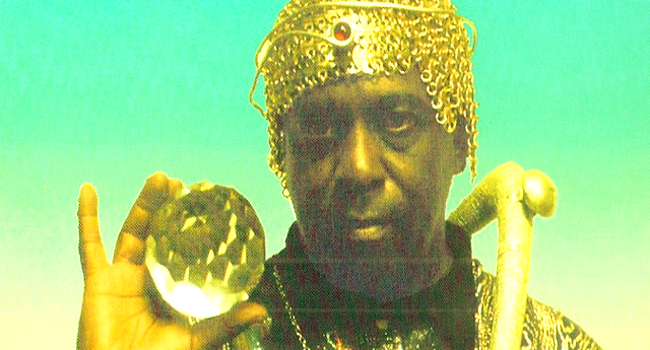 This year we celebrate the 100th birthday of the cosmic reign of the avant-garde jazz musician Sun Ra whose official birthday is celebrated on May 22. For those who know the man's music, there is no need for an introduction here. For neophytes, here is a sampling of the story from the Sun Ra Arkestra's official website:
Eclectic, outrageous, sometimes mystifying but always imbued with a powerful jazz consciousness, the music of Sun Ra has withstood its skeptics and detractors for nearly three generations. And well it should, since Sun Ra has been both apart of and ahead of the jazz tradition during that time. Like Duke Ellington and swing-era pioneer Fletcher Henderson, Sun Ra learned early on to write music in an arranged form that showcased the specific talents of his individual Arkestra members, and he has retained the services of some of these musicians to this day: John Gilmore, Marshall Allen, and Julian Priester for example since they first joined in the 1950's. On the other hand, Sun Ra was the first jazz musician to perform on electronic keyboards (56), the first to pursue full-scale collective improvisation in a big band setting, and his preoccupation with space travel as a compositional subject predated bands like Weather Report by about 15 years.All this from someone who refuses to even cite the earth as his home planet and prefers to have arrived from Saturn. As Sun Ra once explained it, "I never wanted to be a part of planet Earth, but I am compelled to be here, so anything I do for this planet is because the Master-Creator of the Universe is making me do it. I am of another dimension. I am on this planet because people need me".
There is no one quite like Sun Ra, and no band quite like the Arkestra — part jazz ensemble, part communal living experiment, part cosmic musical cult, Sun Ra and his Arkestra were a living theater that put their music at the service of human consciousness and enlightenment. It's hard to imagine artists with more integrity — the Arkestra still spreads the message to this day. And it's difficult to imagine any American more deserving of this centennial remembrance.
In honor of his 100th birthday, here is the Sun Ra documentary A Joyful Noise…
Stay Awake!
Please subscribe to my YouTube channel where I archive all of the videos I curate at Insomnia. Click here to check out more Music posts